Shopping Cart
Your Cart is Empty
There was an error with PayPal
Click here to try again
Thank you for your business!
You should be receiving an order confirmation from Paypal shortly.
Exit Shopping Cart
7th HEAVEN GALLERY - The Return of the Divine Feminine/GOD the Mother for WORLD PEACE
The Art of Self-Discovery
| | |
| --- | --- |
| Posted on August 23, 2012 at 11:22 AM | |
I have noticed that the hardest thing in life is to live an easy life!  With this in mind, I created a poem below called E-SEA LIVING.  I hope you enjoy it!
The art of E-SEA LIVING
Life is about e-sea living.
God loves you and God is giving.
Do you want to feel good?  Then this is where you start.
Get out of your head and into your heart.
If you want to heal the life your are living.
Be gentle with yourself and be forgiving.
Let go of guilt, anger or sadness.
Life is too short for drama or madness.
Allow your feelings a positive way out.
Paint, sing, laugh, let go of self-doubt.
Give yourself time to play.
Do what feels good today!
To have inner peace is to live in the now.
Surrender, forgive, you know how.
Be still and reflect on who you are.
See your goodness and you will go far.
Stop self-criticism, say to the inner critic, "no more"!
Let the abandoned inner child out.  Open the door.
Talk to your fears for they are not real.
Allow them to go fish'n or watch Let's Make a Deal.
Fears comes from the child within.
Cradle the child in love, that's where you begin.
Your life is joyfully blessed.  Keep a positive attitude.
Be thankful for what you have.   Stay in gratitude.
You are not your past, so let go of the old story.
Write a new script, you are the star, see your face in glory!
Be gentle and compassionate, look within.
See the good in every experience.  You are here to win!
God is love, God is goodness, God is in you.
You are your own best friend, support your feelings, be true.
You have been created for a special reason.
Be true to your passion and change with the season.
All your answers are inside.
Ask, act!  God is at your side.
God supports you to live your dreams.
Celebrate your gifts.  Buy an ice-cream!
Life is a game. The prerequisite is to have fun.
Play like a child, then you have won.
Sit by the sea and watch the birds soar.
Be in the moment and hear the waves roar.
Smell the salt in the air.
While the wind dances through your hair.
Let your feet play in the sand.
God's love for you is at hand.
You deserve pleasure!  Play, create a silly rhyme.
Stop and smell the flowers, this is your time!
Take time out to do nothing, to just be.
This is the art of living, it's that e-sea!
By Sheri Salin
PARADISE IN BLUE
Acrylic on canvas, 36 x 48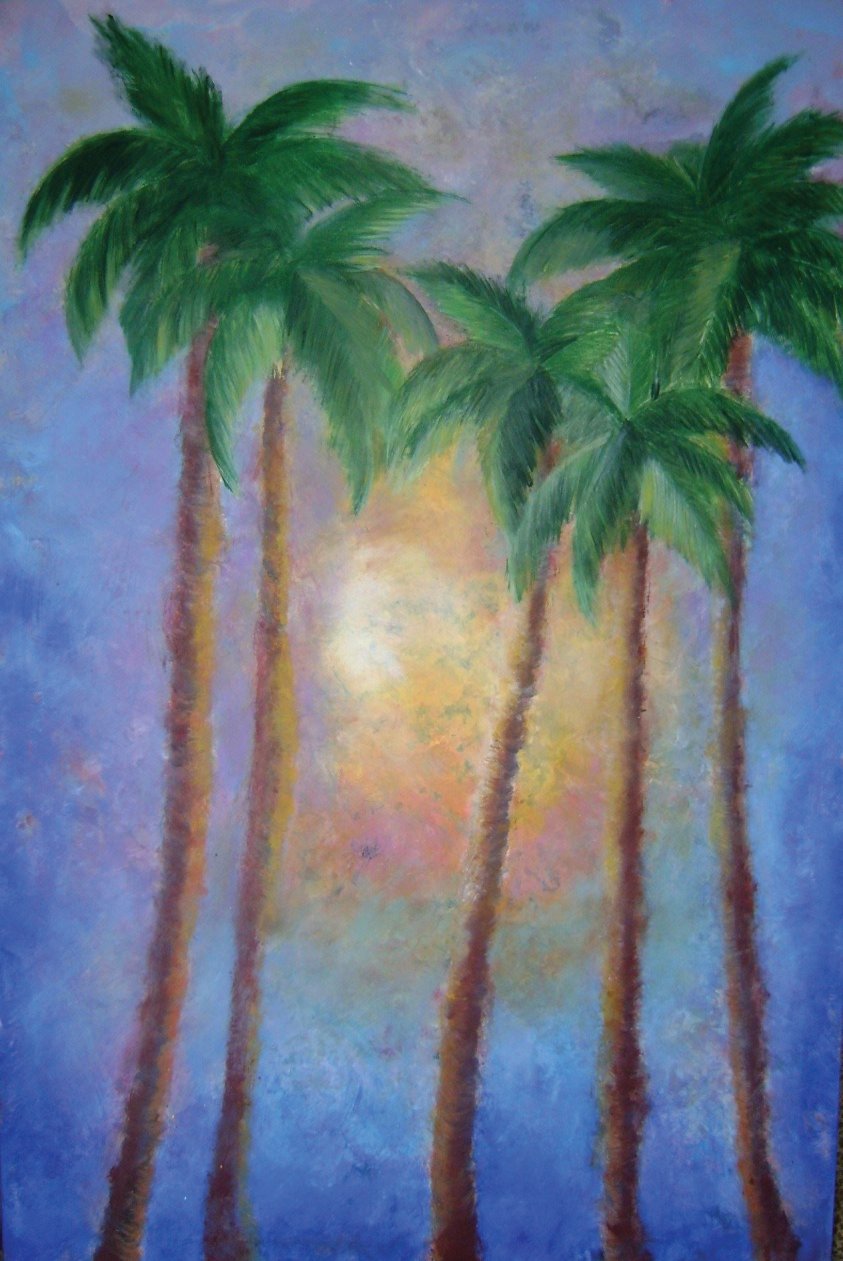 Categories: The Art of Self-Discovery
/