Shopping Cart
Your Cart is Empty
There was an error with PayPal
Click here to try again
Thank you for your business!
You should be receiving an order confirmation from Paypal shortly.
Exit Shopping Cart
7th HEAVEN GALLERY - The Return of the Divine Feminine/GOD the Mother for WORLD PEACE
The Art of Self-Discovery
| | |
| --- | --- |
| Posted on March 13, 2012 at 3:31 PM | |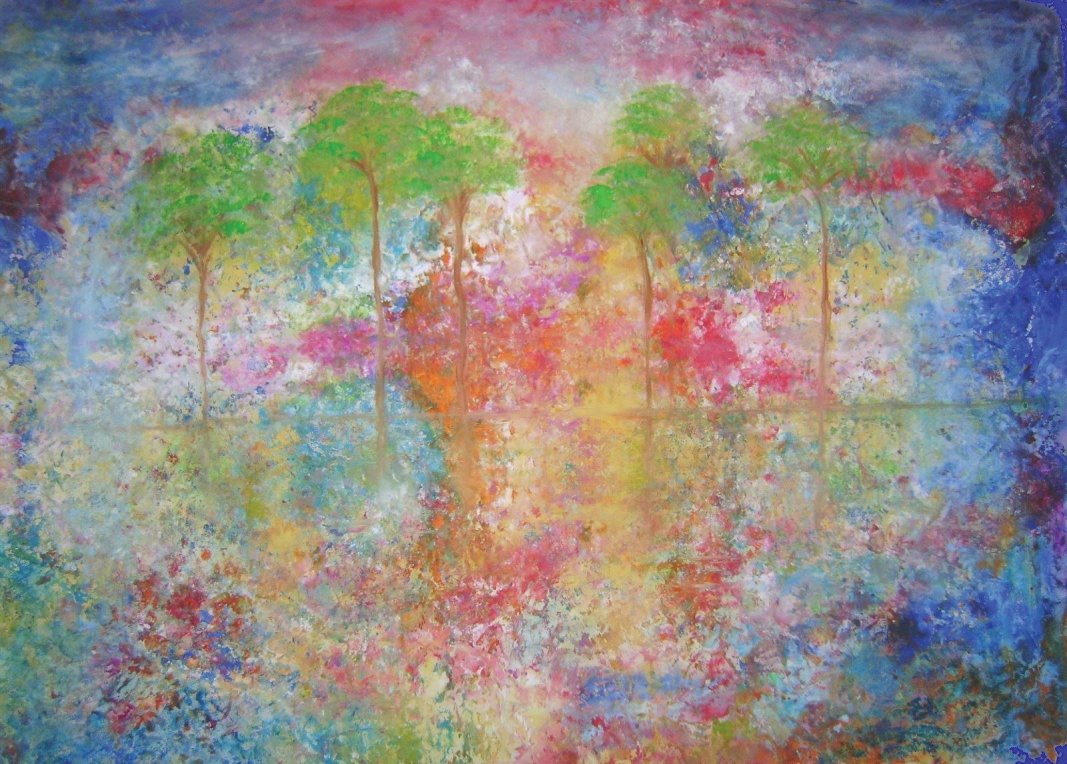 OUR CREATOR
OUR MOTHER
OUR EARTH
(Acrylic on canvas by Sheri Salin)
Yesterday while I was walking in the park, I started to question my life and ask myself if I am living the life I want and truly deserve.  Some feelings of anger surfaced for I felt stuck in many ways.  My first response in the past would have been to judge the feeling of anger as bad and then suppress it or project it outwardly onto someone else, the government or whatever.  This feeling of anger (fear) is at the root of war.  The anger and war that others play out is a reflection of the war that is going on within themselves.  They don't feel at peace within so they act it out onto others.  The painting shows a reflection which symbolizes our lives.   The inner reality gets reflected back to us by our outer world.  If we feel peace and love within, our outer world or surroundings will reflect that.   
The anger is never about someone, the government, the economy or religion.  Anger is only a feeling that is potential energy.   If it is used constructively and creatively it can be a powerful force to bring about positive change through taking inspired action.  It can bring lightness to where there was darkness.  I decided to feel into my anger and to use it as fuel, as energy to travel deeper within myself for answers.  I decided to transform this energy creatively through painting, by allowing the painting to bring guidance and answers.  My inpsired action was to write this blog, to share with others a journey towards evolving into the spiritual beings that we are.   
I paint intuitively and never know what message God/Goddess/Spirit/Higher Power/Universe has in store for me.   For me, art is a you-niversal language of God/Goddess that I later translate into English.  Once I finished the painting, I thought it looked like an impressionist painting of a sunset landscape.   That was yesterday's perspective, today was something different.  When I was able to get more relaxed, I looked into the painting.  This required me to close my outer eyes in order to have inner sight.  I became like an innocent child of wonder and my heart opened up to a deeper truth, a secret from God.  I saw the face of a woman in the middle of the painting, a face I never intentionally painted!  The divinely guided painting was speaking to me of our Creator, our Mother Earth.  We came from Her, both males and females embody this feminine energy within. 
We are all here for a reason, to anchor in the Divine Feminine at this time on our planet.   Our patriarchal world has been off balance for way too long and the only way to bring peace, harmony, joy and fun into our lives is by uniting the love of the Divine Feminine with the Divine Masculine.  We are created through the balance of both these energies, a cosmic orgasm!   
The Divine Feminine is in you.  She represents feelings, love, nurturance, creativity, spirituality, receptivity, stillness and intuition.  Don't you deserve to live a life that is peaceful, fun, creative and magical?  We are all Divine children with greatness and goodness within to live out our wildest dreams, to feel good in life.  As a Divne child, which field are you playing in, the field of fear or the field of dreams?  Where do you give your attention and energy to, to the light or to the darkness? 
This painting, Our Creator, Our Mother, Our Earth symbolizes the colorful, magical, peaceful, abundant world we all have within us.  This inner spiritual world surpasses all religions for it is a new religion of human evolution.  This new religiion is SELF-LOVE.  It can only be felt through the heART of truth, the love within.  Feeling into the painting will bring this essence to you along with opening your heart to receive the love that the Divine Feminine has for you, bringing both your energies into balance.  Rebirth into your authentic self!  Feel the joy, magic and beauty that our Mother Earth wants to give you.  Stay in gratitude. 
Categories: The Art of Self-Discovery
/