Shopping Cart
Your Cart is Empty
There was an error with PayPal
Click here to try again
Thank you for your business!
You should be receiving an order confirmation from Paypal shortly.
Exit Shopping Cart
The Art of Self-Discovery
| | |
| --- | --- |
| Posted on August 30, 2011 at 5:47 PM | |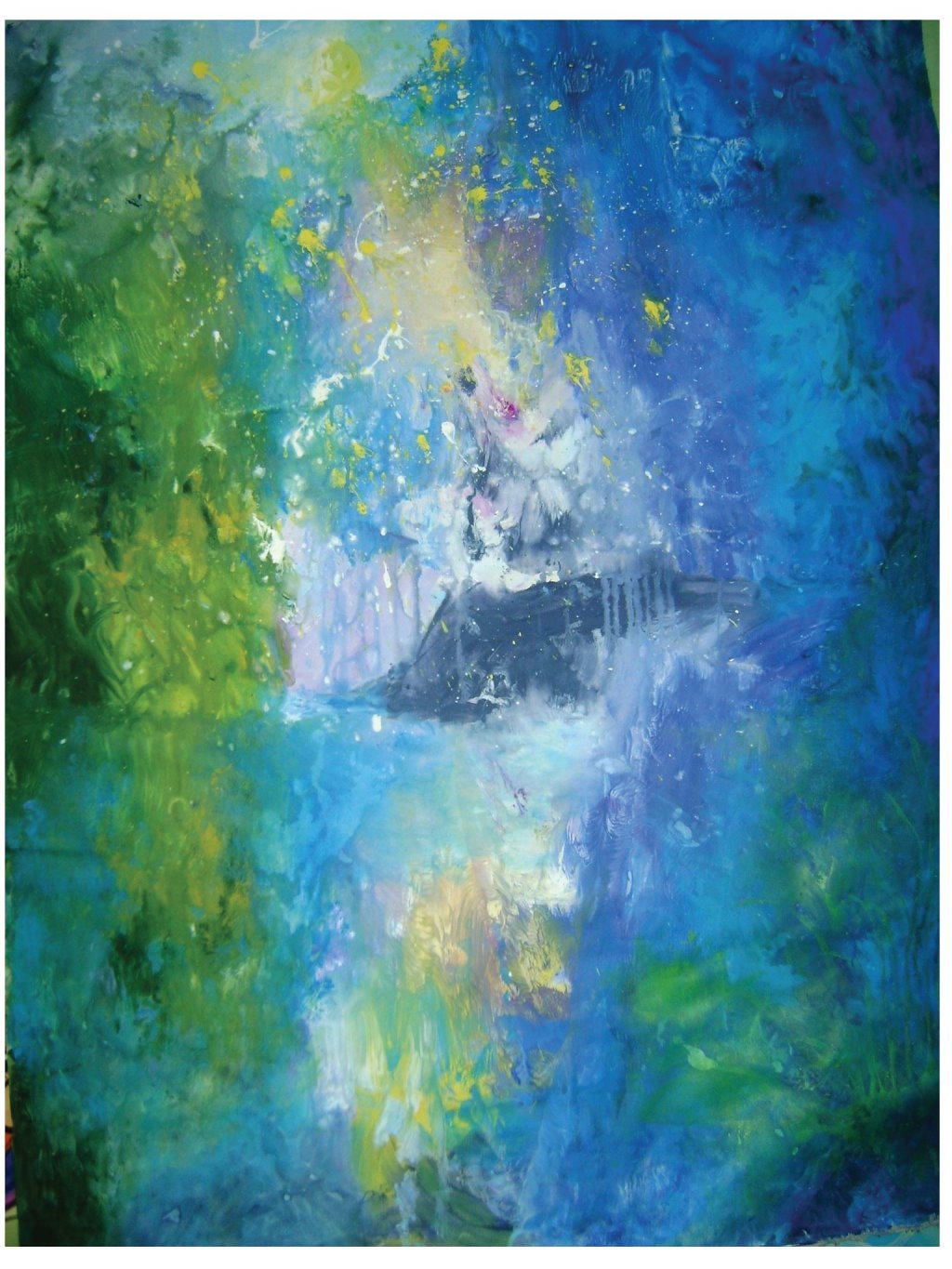 MYSTIC MOUNTAIN
                                            Acrylic on canvas, 60 x 42
                                                    by Sheri Salin
Well, here's my first blog!  I wonder who is going to find it, yet alone read it?  I'm excited yet a little reserved in expressing thoughts and feelings in words.  As an intuitive artist I am so used to expressing myself on canvas.  Yet, I must admit that there were paintings that were created in my past that I didn't dare share with others, only my best friend.  She thought the painting was so expressive of my feelings and all  the more I suppressed myself in sharing it publicly.  I soon came to realize that I was feeling shame and fear of my actual feelings.  No wonder I was so quiet and shy as a child.  I feared my feelings and feared myself.  At a young age of 5,  I remember asking myself "who am I".   How could I know who I am without feeling into my feelings and letting them take me to a deeper place within, a place that I never knew existed! 
Most of my life I was quiet, listening to others over my own quiet voice within, a voice within that never had a chance to be heard.  I felt stuck in a body with no expression, no life, until one day I went through hell, a crisis in my life.  By going through hell, I found heaven!  The hell I was going through needed an outlet to express, to feel, so I turned to painting.   The painting brought me to heaven, a place within myself, a whole new world of unconquered territory, ready to be claimed.  The actual claim was claiming my authentic self, my God-self that was full of peace, wisdom, love and joy.  I loved this new inner world for I found it to be very colorful and more important than the outer world.  The inner world manifested outwardly as paintings and poetry, full of joy, healing, magic and mystery.  I couldn't get enough of it and I knew that this challenge that I experienced in my life came to serve me, it was a blessing for I found my life's purpose and passion, being in the business to express my God-self. 
Pablo Picasso once said that his art is like a diary.  I must admit that I saw my art as a diary as well, reflecting back to where I was in life, how I was feeling as well as the art being prophetic.  My paintings were the language of my soul, sharing with me glimpses of myself and wisdom that sometimes came at a later time in life.  Through painting, I began to understand that the soul doesn't know time or space.  It showed me that the soul is whole and complete, the way we were all born.  I sometimes didn't understand a painting until many years later when my level of consciousness had risen.  It was exciting to measure my spiritual growth through the artwork.  Otherwise it is hard to see growth for it is not a tangible thing.  The painting puts the intangible (feelings) into the tangible. 
The painting I want to share is called Mystic Mountain.  It is my most recent painting and this painting marked a special phase of my life.  It conveyed how I was allowing myself to surrender more to the process of painting, surrendering to trusting life and trusting myself.  In the past I would have defined it more as a way to overcompensate for not feeling defined or visible in life.  I was able to just let it be, to accept it for it's raw beauty by  not overworking it.  When is enough?  When am I enough?  There is such a correlation to painting and self-discovery.    Painting provides an outer journey of joy and magic.  Once the painting is complete, it then provides an inner journey to self-discovery that brings more peace and compassion.  What is my soul wanting me to know?  What images, colors or symbols are being reflected back for me to see?  
After I did the painting Mystic Mountain as shown above, the first image that I saw at the top right side of the painting looked like a layer being peeled back from the mountain.  Beneath the layer is a blue, ancient face of a woman.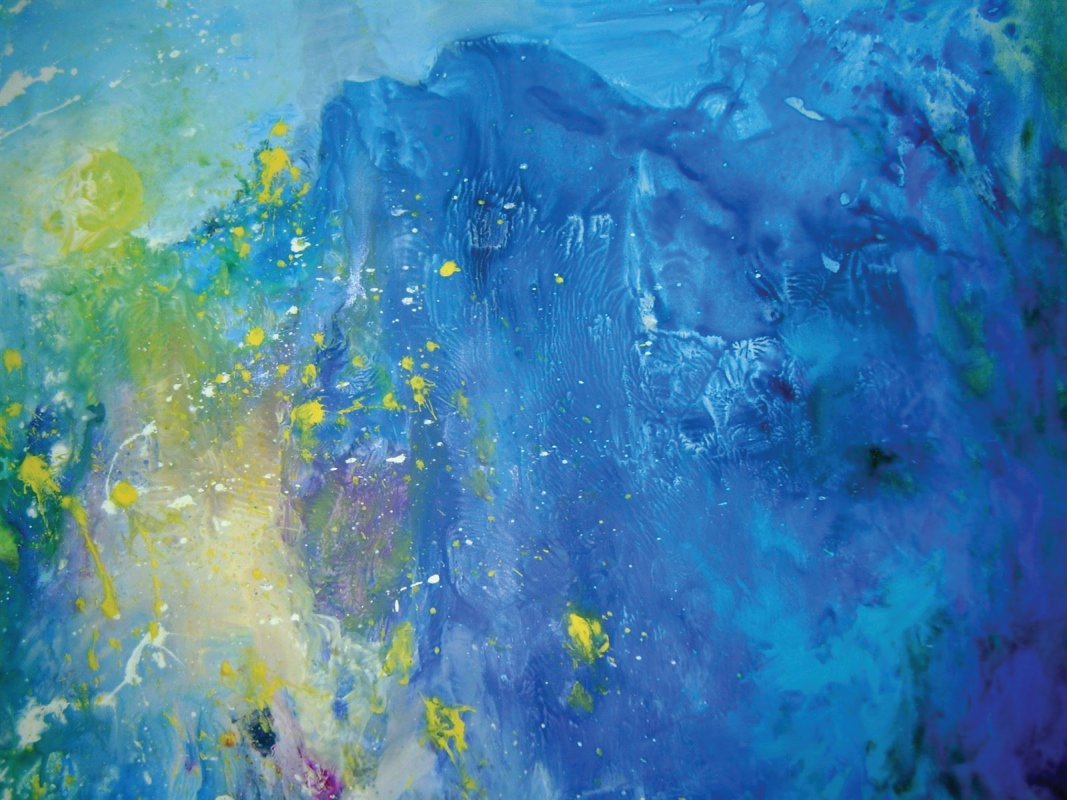 This symbol could mean so many different things to different people, depending on where they are in life.  The artwork brings out the subconscious into consciousness to reflect back to oneself.  The meaning behind the layer being stripped away represented stripping away layers of false beliefs about myself and to stop hiding who I am.  The layers and old beliefs kept me separated from the Divine and from my soul.  I saw that I needed to expose myself more......in a creative way by sharing who I am.  To not fear rejection or abandonment but rather to celebrate expressing aspects of myself and the Divine within.  It gives others permission to then do the same.  This symbol also conveyed aspects of my personal truth of the Goddess within wanting to be expressed through a book I wrote,  that I put on the back burner for over ten years.  There is light in the center of the painting and it was a matter of letting more light into my life by being lighter and not taking myself or life so damn seriously!   I've held myself back so much in life and now I just want to be me.  Allow myself the freedom to express, to feel, to be alive, to say who gives a damn, I am that I am! 

 

May the power of the Creator be with you, always in all ways.

 

Until the next painting...........ciao.......stay groovy!  Remember, life is short, live your dreams, get creative!

 

Mystic Mountain is availabe for purchase below.  Thank you!

 

Price:  $4800

 

Categories: The Art of Self-Discovery

0

/