Shopping Cart
Your Cart is Empty
There was an error with PayPal
Click here to try again
Thank you for your business!
You should be receiving an order confirmation from Paypal shortly.
Exit Shopping Cart
7th HEAVEN GALLERY - The Return of the Divine Feminine/GOD the Mother for WORLD PEACE
The Art of Self-Discovery
THE ART OF RECEIVING
I love art, the art of self-discovery and the art of living as spiritual beings!  As part of my last blog on The Art of Self-Discovery, I was inspired to share this article written by a friend, Brooke, a metaphysical store owner, Serenity Now in Palm Harbor, Florida.  She carries prints of my artwork in her store.  Her personal story is called The Art of Receiving:
I (Brooke) was asked by the staff to keep the theme of "the art of receiving" for the month of September.  There were so many stories and "aha!" moments shared with us.  I found myself sharing in the joy of the amazing things that had happened.  I think we have been taught, for so long, to look to outside circumstances for our fulfillment, that we forget that we have a part to play in it all, by giving permission to receive our good.
I remembered a story on the topic of the art of receiving.  It started on a very ordinary afternoon when one of our most amazing staff came to me and said that, with great regret, she had to resign.  She had been given an opportunity to take part in a study of young athletes that were susceptible to sudden cardiac arrest.  The study was going to see if an EKG could give an early detection.  Our Joy, with her background in nursing, was ideal for this study.
I found myself delighted for Joy.  However, I felt devastated for myself and the store.  For years she had been like a sister, a right arm, a teacher for me.  My dilemma was how do you even begin to replace someone like that?  Truly, I thought it was impossible.  I spent the rest of the day in doubt and fear.  That night I took several years-worth of job applications home with me.
It was now 4:30 in the morning, and I had not slept at all.  All of a sudden a light bulb went off in my head.  There is an Archangel named Chamuel.   He will help us find things.  I just simply asked him, "Can you help me find someone to work in the store?"  Within a nanosecond I heard one word, (not audible) "Julie".  I was also given a picture of her beautiful face.
Julie had been a customer in the store, who would come in 4 or 5 times a year, always in a super hurry.  I did not know much about her personal life, but her angelic energy would fill the store every time she came in.
So the minute I was willing to receive the answer, it was given to me instantly!  I wanted to call her right then and there to see if she was available to work, but I knew I had to wait for a reasonable hour to make the call.  Finally, around 9 o'clock, I placed the call.  As it turned out, she was available.  I asked her if she could start that very day and she said yes!
There was a part of the story that I did not know at the time, but Julie shared it with me months later.  About the time I called her, she had been through some major life changes.  She was needing to find a job, but first and foremost, she was remodeling two homes that needed to be sold immediately.  She really had no time to go for job interviews, and was praying for God to see if the perfect job could just call her up, out of the blue, and hire her, which is exactly what happened!
This point in the story brings me to a significant part of the art of receiving, that we don't often hear about:  the Law of Reciprocity.  To me it means that whatever we are looking for is looking for us!  For example, you single ladies that are looking for a partner, not only is he out there, but he's looking for you!
This story gets even better.  After a little while, when the study was over, our Joy came back to us.  So now I get to be with Joy and Julie on a daily basis.  (It's sort of like double scoops of ice cream!)  So a situation which I perceived as a loss, turned out to be an opportunity.  But, I did have to be willing to receive.
The way we live our lives is like an art , taking a blank canvas and creating the reality we want through our thoughts, beliefs and feelings knowing that the canvas can be repainted over again if we don't like the reality or image we created. 
The art of receiving does require the ability to surrender, to let go and let God.  It is a trust in ourselves and the Universe.  Most of us are so used to "doing" a masculine energy instead of balancing it with "being" or "receiving", a feminine energy.  We all have both masculine and feminine energies within us.  When we allow ourselves to get still and go within, to listen to our intuition (feminine energy) and then take inspired action on it (masculine energy), we create balance and harmony in our lives.  I created a painting called LOVE & HARMONY that reflects this balance of both energies.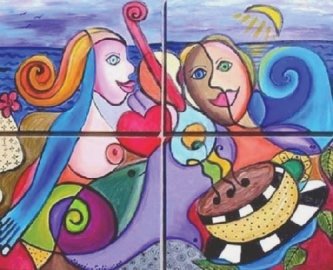 LOVE & HARMONY
                                     Acrylic on 4 canvases, 32" x 40"
                                                 by Sheri Salin
                                                  Price:  $4200
'What so ever things ye ask for when ye pray, believe that ye receive them, and ye shall have them."  Jesus
The other important part of this equation is gratitude!  To be as thankful for what you pray for all the time, as you expect to be when it has taken form.  Faith is being thankful to God~Goddess for things which as yet one owns only in imagination.  There has to be a balance of joy and graititude.  Feel the joy before receiving the manifestation and at the same time give love and thanks back to God~Goddess for it before you receive it.  There has to be faith and a  balance of giving and receiving, masculine and feminine energies.
Happy receiving!
/